Soap Making Business Articles And Tips
The following links are articles about starting a business at home. It's true that starting a soap making business is one of the easier ways to make some money, while being mostly at home. It costs so little to get started that many give it a go.
What's more, soap making as a fun hobby is very popular mainly because it's interesting and an outlet for creativity in many ways.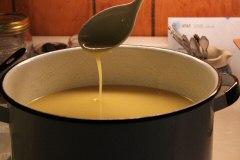 However, moving from making something as a hobby to marketing it at a profit is quite the move. It certainly can be done and quite quickly at that. But getting started presents quite a few hurdles. Check out the articles for a few tips and ideas.
Building A Soap Business Articles
The Tricks To The Soap Making Business
A Best Selling Handmade Soap Recipe
Marketing A Soap Business Using The Simple Approach
What About The Internet For Selling Soap?
What About A Catalog That Features Your Products Like Soap And Lotions?
Learn About The Soap Making Business - Some Tips
Make Profits Mostly From Home Using Soap You Make
How To Start A Soap Business Using The SoapBizKit
How To Start A Soap Making Business The Simple Way
How To Make Money Selling Soap You Make Yourself
How To Sell Soap An Easier Way
An Easier Way To Get Going Including Places To Sell Handmade Soap
Selling Crafts Including Natural Soap
How To Sell Soap At A Craft Fair
Best Selling Soap Scents You Can Try
Another Look At Most Popular Handmade Soap Scents
5 Tips For Starting A Soap Making Business At Home
What About Soap Making Courses?
Tips To Sell More Soap At Craft Fairs And Festivals
How To Make Bar Soap The Easy Way
2 Factors To Make A Soap Business Go
Make A Soap Business Go In These Ways
Check Out 5 Tips For Selling Your Soap
How To Start A Soap Business With Nearly Nothing
How To Start A Soap Making Business From Home
How To Start A Soap Business Fast - 5 Tips
How To Sell Soap At A Craft Fair - 5 Tips
Though many quite large and prosperous soap products companies got a start at a home scale, many other ventures have stayed small and yet have still provided interesting work, as well as profits, for their operators for years. So you could start really small with nearly nothing and then grow or just stay small. In other words, unlike a lot of business ideas, this one is really possible for most anybody willing to work.
Certainly building a soap business is no get-rich-scheme. There's a lot of work involved in making soap in quantity. Selling what you make takes effort as well. However, since the soap gets used up, you really have an advantage. It's really the repeat business potential that makes this business potentially very attractive.
If you produce products that have a unique twist, which you can, and get some sales, you can really build on those initial efforts. It's just a matter of making great products and getting some sales to get going. You can do all that too.
If a small scale, home business interests you, especially a soap making business see the SoapBizKit at this link.

Check out more free articles here...