To make and sell soap as a business, check this out.
Maybe you're looking for a fun way to make some extra money.
Maybe you've made so much soap you're having to walk around it and need the room back...
It could be that you want to get into a low cost little home business with your family and making and selling soap sounds like a good idea. It might be, so please read on...
Or...
Maybe you see what others have done with soap and just know you could really turn a soap making venture into something special. And you might be right.
If you're in any of these categories, please consider where we're coming from. Then I'll explain what we offer.
The complete soap business plan is at this link... Click here...
This is not a get rich quick trick, nor is it an easy way to wealth. It is a proven, simple way to build a real business that can make money.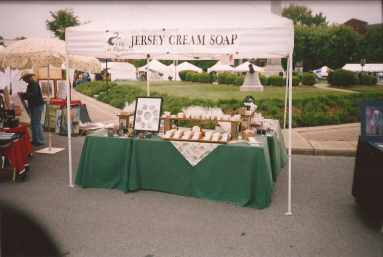 In 1999 I quit a good job and came home. I liked my job, but was basically forced to quit. I had a wife and young children, so I wasn't in any position to retire or anything like that.
I needed to make some money and fairly fast. You may be able to relate to that.
Now What Do You Do???
Anyway, my wife and I sort of looked at each other and started trying to come up with something to do. Now to be very clear, she was and is in this as much as I am. Ideally we both wanted for me to do something from home. That had been my desire for years.
Well one thing we both liked was homemade soap. Kathy, my wife, had made quite a bit of soap. This was back when there wasn't a lot of homemade soap around, at least not where we lived. So I thought maybe that would be something that would work.
I might add here that my background includes designing processes to make things. I had a lot of experience in design and manufacturing. Not soap, but things a lot more complicated than soap.
So I was familiar with setting up to produce products and trouble-shooting things that go wrong.
But Who Do You Listen To?
As I started reading about soap making I found right quick that the people that were writing about making soap were not very clear about what they did and why. I'm not really sure why that was.
It's still that way from what I can tell. It's hard to get straight answers about the best ways to make handmade soap and why.
So it took me longer to really get my soap production where I wanted it than I thought it would. That mostly was because of the lack of clear information.
Here's an example.
If you follow a lot of soap recipes you end up with soap that doesn't have much scent to it. You can often barely smell it, even right after it's made. It's very common for that to happen. Ever had that happen?
Know why?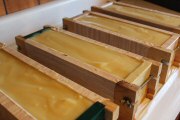 It's either that the recipe calls for fragrances that really won't work in cold process soap, and many won't, or it's the other more likely cause. They just didn't have you put enough scent oil in to make it smell. Isn't that goofy?
But I've seen it happen time and time again.
People follow a recipe and the soap doesn't smell.
I'm joking here... you know what the technical term is for soap like that, where you put in just the amount of an expensive oil or fragrance that the recipe calls for, but it still doesn't smell? It's called "unscented soap."
And you know how many people want unscented soap??? Some, but not many.
So you follow the recipe and you get unscented soap and you might as well have thrown away all that expensive scent oil.
This is ridiculous and doesn't have to be if you know how to scent soap to get the right smell...
But, back to what I found about soap info...
But What About The Mystery???
It seems that soap making was, and is, looked at as some kind of grand mystery with all these deep secrets. That really is not the case of course. There is some art to soap making but it isn't a great mystery.
So that's where we started.
But then once you get to where you can make really nice soap you may wonder what it would take to sell it.
Quite clearly at this point, there are a lot of people trying to sell soap. Some are selling a lot too.
But most folks surely have little success at getting anybody very interested in buying soap.
Well, here's why you might want to listen to what we have to offer.
We sold over thirty five thousand (35,000) bars of soap over our first four years just working part-time.
That was just working out of the house selling soap made in the kitchen sink. This was a little kitchen scale venture that made money almost from the very start. The plan we used could be used by just about anybody. It's simple and you will quickly understand it. I couldn't say it's all that easy though.
Can you imagine making 35,000 bars of soap in little 50 and 100 bar batches? That's a lot of work.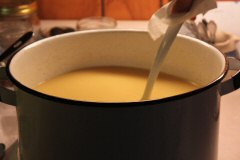 But it sure beat putting up with a lot of stuff I've put up with to make money. Can you relate?
See, with a home based business you can spend more time with your family. You can set your own hours. You can work as little or as much as you want. It's up to you.
Now surely the handmade soap business can be operated as a tiny low cost venture that can stay small and still be profitable. It doesn't have to stay small however.
There are some, what I would call, monster size businesses that just started about the same way you could start a business, just from your home. Two businesses like this that come to mind are Dr. Bronners's soap and Burt's Bee's.
So it's really up to you what you do with a soap as a business.
People are going to keep buying soap. It's just up to you whether you want to be the one they buy it from.
Along the way to where we are now, we learned a lot about not only making soap but selling it as well.
We decided to put down what we learned and let others have access to it. There's room for lots of soap makers.
And truly most people who try this as a business won't get anywhere. There are a lot of drop-outs for a lot of reasons. There's room for more people who make money at this. If you know the right moves to make, you can be somebody that does well.
Start A Soap Making Business
CLICK HERE TO GRAB THE SOAPBIZKIT
So, here are some of things we learned and can tell you about...
How to make unique soap that people can only get from you.


Why unique soap is a must.


How to design your own soap products.


How to decide which soap recipes are any good.


How to make soap faster than most people can.


Why use certain ingredients and why leave others out.


The best places to get supplies.


What tools you need and where to get them.


How much money you can make with soap.


How much it costs to get going. It's not very much.


Tricks to scents. Everybody likes to smell soap. How to design scent blends.


What scents sell the best. We know. We tested it with 35,000 bars of soap.


Of course you get proven to sell recipes with tips to make your own recipes.


Make Terrific Handcrafted Soap!
Then there's a whole book of ideas for selling soap.
The easiest places to get going.


How to get a lot of sales from home without going anywhere.


Mail order soap sales.


How to get phone in orders.


What to do to get bigger orders. Our mail orders were almost always over $35, sometimes a lot over!


The best way to use the Internet for soap sales.


How your customers will make it easy for you to make more money.


The Soapmaker's Marketing Guide
Here's The Deal
You get both these books plus examples of our catalog and brochure.
Some of the tips in these books might be worth thousands of dollars to you...
And few people know what it takes to really grow sales.
I know it's true as I watch what other soap makers fail to do. I see it every time I go to a craft fair. They are missing out just because they don't know.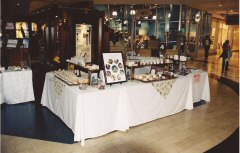 That's what we have done and what we have to offer.
It's not for everybody.
The soap making part in the material covers cold process soap making. That's where the money is. It's not about hot soap processes. It's not about melt and pour soap. These are fine ways to make some nice products. It's just that they aren't really very good ways to make money and build a business.
I don't want you to limit yourself and waste your time. I want you to get off to a good start and make some money. I hope that's clear.
It's a simple plan, but it's not obvious how to do a lot of this. This is hard won knowledge. We weren't born knowing all this. We picked it up the hard way, from experience.
So here we are all these years after we started on this soap making and selling venture. We're still hard at work, at home, making things and selling things.
If you are interested in making a go of selling soap for profit, we offer our product called the SoapBizKit.
You get in this digital download two books: one is a soap making book with all our tricks. It's about 70 pages. The other book is the marketing part. Again, it's about 70 pages too and gives you the details about how to sell soap and other crafts.
We wrote both books and have kept them updated. We also in the package include example marketing materials that can give you a head start on your own materials.
SoapBizKit Buyer Comments


THANK YOU!! Once again, you have gone above what I asked for. Thank you so much for the

pricing ideas

. (and all the other helpful experience and information you have shared with me.) I have told a friend who makes soap in IN about your ebook and highly recommend she get it... It is a real deal at 37.00. I feel the information you share in your soap making and craft show ebooks would improve any soap making business

one hundred fold

at least and is a wonderful

investment

in any soap making venture, for hobby, and especially for business.

L. Bush Kentucky
You can sell a lot of soap, even in today's economy, if you know how.
You can also waste a lot of time and get nowhere. Truthfully, that's what most people will do... It doesn't have to be that way however.
Your Iron-Clad, No-Risk, All-Your-Money-Back, 30 Day Guarantee!
Your SoapBizKit comes with a 100% Money-Back Guarantee.

Take the time to look through the material and see if it isn't just what we say. If you decide that the plan just isn't for you, you'll get your money back.
So you see, you have absolutely no risk in ordering the product - all the risk is on me! You can get the plan right here... Click here...
Our information is available for instant download by just clicking on the Buy Now button below.
The price for the entire package is just $37.
Don't tell anybody, but you can even email me a few questions, as long as they aren't too hard, and I'll TRY to answer them.

I'm better at answering questions about eating and relaxing, but I'll also try to help on soap stuff too. You can ask stuff about selling soap in Australia or Great Britain or Canada and places like that or wherever.

Make 'em easy though, otherwise I'll have to ask Kathy!!! (Al)

The button will take you to e-junkie which is our order processor and then to PayPal, a very secure payment processor. After the payment is made you will get a link to the download page.
Secure Payments
Made Through PayPal
Remember, there will be a short delay and then you will be on the PayPal page to make your payment. You do not have to sign up for PayPal to buy.
If you decide to order we appreciate your business.
I encourage you to get the information if you really are serious about making and selling soap. There really isn't anything else quite like it.
The SoapBizKit shows you how to easily make some of the very best soap and how to make it unique to you. You don't want to just copy what a lot of other people are doing. What fun is that anyhow? Then you get a complete marketing plan that really works and is something you can actually do. This is a proven business plan that works, and we continue to use these same principles to this day.
Click here to get the SoapBizKit!
Thanks for reading this.
We wish you the best success.
Al Bullington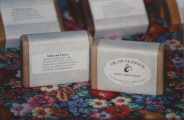 PS:

Get a proven to work soap plan. Remember, you have absolutely nothing to lose - and everything to gain - with my 100% money-back guarantee. Get unique recipes so you can make something different from what others are turning out.

Get a complete marketing plan so you can sell soap like crazy.

Click here for the SoapBizKit!





SoapBizKit.com Copyright © - All Rights Reserved
About Privacy Policy Disclosure Contact Articles Home
Design by FreeCSSTemplates