An Easy Soap Business Plan

A soap business plan is easy for a small scale business start-up. A soap business plan should include product design and manufacturing plans as well as ideas about marketing. A soap business is one of the very easiest home business ideas.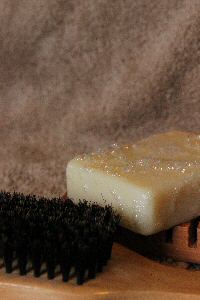 Yet you really can make money quickly with just a tiny investment. It's easy to get started and fun to turn soap into cash. If you just want to turn your hobby soap making into a business, that's a great way to make some profits.
There is a big difference in making soap as a hobby and marketing soap for profit. The real plus is that a soap business requires so little investment to start that there's almost no risk of losing much. Now if you choose to build a factory and start big, good luck. Even if you wish to grow a large soap business, why not start small and learn?
Learning To Make Unique Soap That Sells
Start by learning to make high quality soap. Learn what you like yourself by trying many different products. Buy lots of soap as market research. You'll quickly see what other soap makers are doing. How does the soap work? Does it feel creamy or drying? Does it really last well or just melt away? Is it well cured? Do you like the scents? The colors? How about the packaging? Did you get any marketing materials? Learn anything there?
Now make a lot of soap. Try it out. Give it away. Try different methods for molding the soap. Try different scents. Does it take much more scent to get a good smell than the books say? Try to develop your own unique soap.
Make soap that's unlike your competition so your customers come right back to you. Consider making soap scented just with natural scents. Maybe you can use organic ingredients. Or make milk soap. Use regional themes. In some way make your soap designs unique to you.
Know how much your products cost to make. You already know about how much it will sell for, since you've already bought soap. How much do all the ingredients in a bar of soap cost, and how much would you save if you ordered in larger quantities? If you really want to make money with your soap, you must know the cost of each bar. Find out early in your planning.
Now, how can you sell soap?
There are dozens of ways.
One of the best is to sell at craft shows or other events like fairs or farmers' markets. Get yourself somewhere that many people are shopping and buying. That way you can sell a lot of products quickly and don't have to drive around all over the place making presentations.
Now here's the trick.
The real key to a good soap business plan is selling to your customers. The people who buy at a craft show, or wherever, will often buy again if you sell a great product.
Keep a customer list and mail a little catalog to your customers and they will send you money in the mail, or they will order from a website. Make sure every customer can contact you to reorder, and get as many customer contact addresses as you can. That's the way to build a real business. We show you how in the SoapBizKit.
A soap business plan is a quick way to turn hobby soap making into a money maker. There are several tricks to getting started, but there's little risk, since it costs so little to get into the soap making business.

Check out more free articles here...